Master Gardener Volunteer Service Touches Many

Master Gardener℠  volunteer of Henderson County Pat Newcomer and two friends found a new way to teach those who may be food insecure about how to grow fresh vegetables. They responded to a call for help from the director of the Henderson County Department of Health's Special Supplemental Nutrition Program for Women, Infants, and Children (WIC). The Department sought help transforming the unused raised beds near the building's front door into a demonstration garden. Pat and friends designed the vegetable beds, pulled out old vegetation and planted a fall garden. Guided by Pat and tended by Department staff and WIC participants, the beds are now flourishing. During the growing season, families leave the building with baskets of tomatoes, corn, sugar snap peas, greens, and broccoli.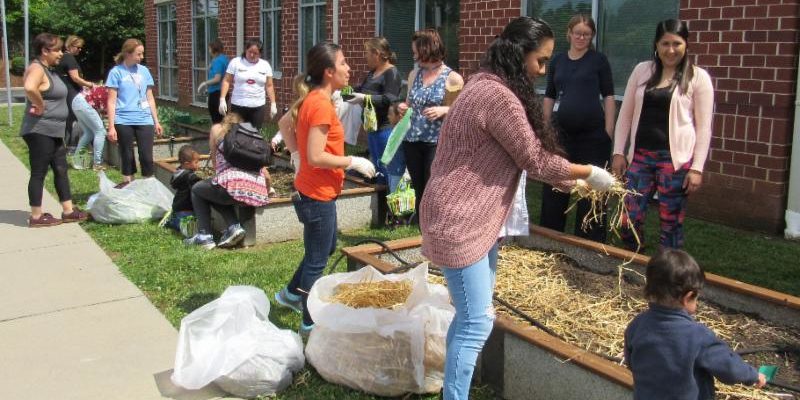 The goals of the WIC demonstration garden are to show women and children how vegetables are grown, introduce them to delicious new foods, help combat childhood obesity, teach them what they can grow in their own gardens and hopefully, instill a love of gardening. Pat and her friends were recognized with a special Friends of WIC award on November 5, 2019, in Raleigh, NC. The team received a plaque that is displayed in the Master Gardener℠ volunteer office in Jackson Park.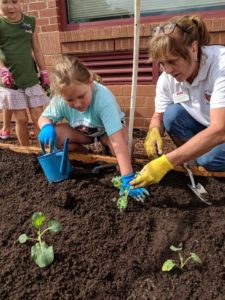 Pat is also being recognized with a state-wide 4-H award for her work on another project close to her heart: the 4-H Mini-Garden Program. Master Gardener℠ volunteers make this program possible by offering training to young gardeners, visiting their gardens, sharing advice, and reviewing garden journals kept by program participants. For ten years, Pat has led the 4-H Mini-Garden Program in Henderson County. Her work has included serving on the 4-H Advisory Committee, marketing the Mini-Garden Program and recruiting gardeners, donors, and judges. Pat has also generously donated funds to help send kids to 4-H camp. We congratulate Pat and her fellow Master Gardener℠ volunteers for their wonderful contributions to the Henderson community. 
To learn more about the Extension Master Gardener℠ program in Henderson County, contact Steve Pettis, Commercial and Consumer Horticulture Agent, Henderson County 828-697-4891 or visit Henderson County online. 
ABOUT Extension Master Gardener Volunteers
Master Gardener℠ volunteers support the mission of North Carolina Cooperative Extension by educating residents about safe, effective and sustainable gardening practices that grow healthy people, gardens, landscapes, and communities. Their vision is a healthier world through environmental stewardship. 
The Extension Master Gardener℠ program operates in 84 of N.C. Cooperative Extension's 101 local centers. To learn more about the Extension Master Gardener℠ program in your community, contact your local N.C. Cooperative Extension Center.